Main content starts here, tab to start navigating
A legend in a nutshell since 1929...
The Virginia Diner™ has been a refuge for folks who like down-home cooking ever since Mrs. D'Earcy Davis served hot biscuits and vegetable soup to hungry customers way back in 1929. In those days the little Diner was a refurbished Sussex, Surry, and Southampton Railroad car. As the business grew, so did the restaurant with dining room after dining room added on to accommodate a growing list of satisfied customers.
Today the Virginia Diner™ has been replicated and the old railroad car has become a legend, but its quaint atmosphere has been faithfully preserved and is still reflected throughout the restaurant. Antique peanut vendor roasters and buckets of free peanuts for munching continue to greet guests at the front door along with the irresistible aroma of freshly prepared dishes just like Grandma Galloway used to make. Traditional southern hospitality and efficient service blend with an atmosphere of red and white tablecloths, bentwood chairs and antique cast iron toys. All are reminiscent of those early days when the Diner began to serve customers peanuts fresh from local fields and prepared in its kitchen instead of after-dinner mints. Today this peanut business has grown into a national and international gourmet mail order business, and the Virginia Diner™ is rightfully known as "The Peanut Capital of the World".
Located in Wakefield, Virginia, the Virginia Diner™ is sixty miles south of Richmond and sixty miles north of Norfolk, halfway between Petersburg and Suffolk on US Route 460...only a ferry-ride across the James River and a short drive through farmlands and forests from Williamsburg, Jamestown and plantation country.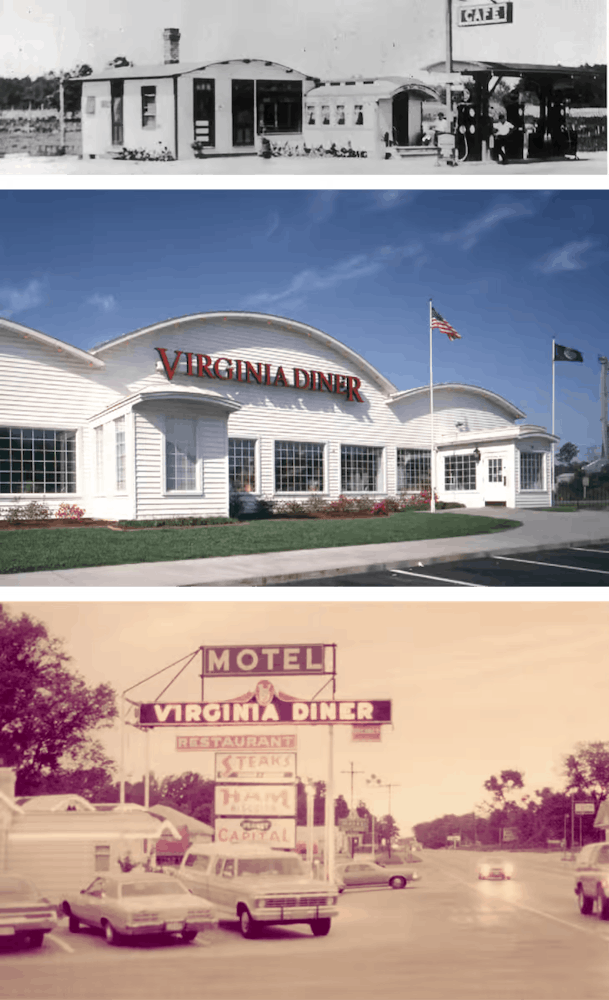 Our World Famous Peanuts
The Virginia Diner opened in 1929 as a refurbished railroad dining car along a dusty highway in southeastern Virginia. Established in the heart of Virginia Peanut country, it was only natural that Virginia peanuts ended up on the menu. Today, Virginia Diner super extra-large Virginia Peanuts, seasoned nuts and chocolate candy confections are available for home delivery across the country. Wholesome and healthy, enjoy them yourself, or send them as a gift. We have seasonal gift samplers, and we offer 'Create Your Own' gift sets too. Known as "The Peanut Capital of the World"™, the Diner truly is a "Legend in a Nutshell"™. Make us a tradition with your family and thank you for your continued support.